APC 2023 Prof Rosemary Calder, AM
11th September – 13 September 2023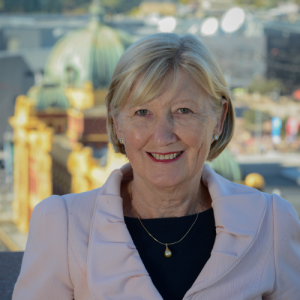 Professor Rosemary Calder, AM
Wednesday 13th September
Plenary 8- Service Models: Innovations and Controversies
Nowhere else to go – why Australia's mental health system is failing people presenting to emergency departments in mental health crisis.
Ms Rosemary Calder AM, Professor of Health Policy, Victoria University, Melbourne.
Rosemary Calder is a respected health and social policy expert.  She has held positions as a senior executive in health policy and administration in both State and Commonwealth Departments of Health and has also served as Chief of Staff to a Victorian Minister for Health. 
Rosemary was head of the Office for the Status of Women in the Commonwealth Department of Prime Minister and Cabinet from 2000 to 2003.  
She leads the Australian Health Policy Collaboration, a national collaboration of public health experts, clinicians and organisations that aims to develop evidence based policy leadership to reduce preventable chronic diseases in the Australian population.
Rosemary has also worked extensively in and with non government organisations in health and social issues.  She is a sociologist and began her career as a journalist in print and broadcast media.